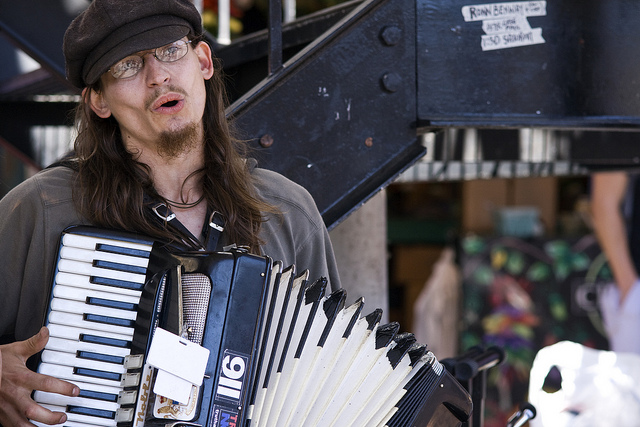 photo by canopic
The Pike Market Buskers Guild puts on the 10th Annual Pike Place Market Busker's Festival Sunday September 18th 2011.
The Pike Place Market Busker Festival, the only festival produced entirely by buskers, is a one-day celebration of the Northwest's finest street performers. It is a free event showcasing the many great street performers who call Pike Place home.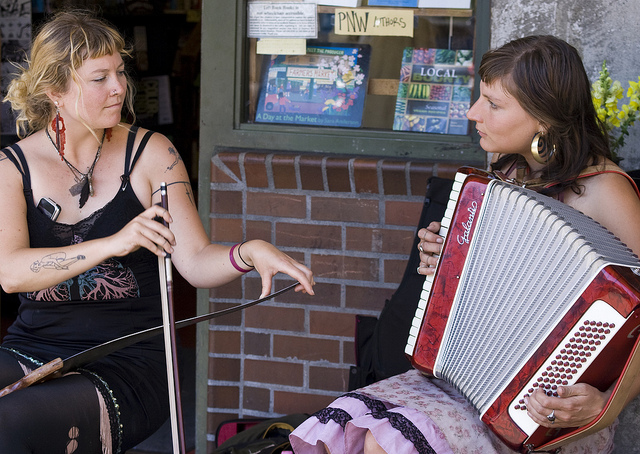 photo by canopic
Come enjoy a variety of talents (a cappella singers, balloon twisters, guitarists, mandolinists, magicians, trombonists, harmonica players, accordionists and erhu players) who bring their art into the street
This year's Festival will feature over 35 buskers on three stages (two amplified stages on each end of Pike Place and one acoustic stage in Post Alley). Festival will be on Sunday September 18th from 11am to 5pm. The Pike Place Market Busker's Festival is free and all ages.
| | South Stage | North Stage | Truck |
| --- | --- | --- | --- |
| 11:00 | Jobo Shanks | Missakeans | Fred |
| 11:30 | The Goria Darlings | Norman Lawrence | Nate h. |
| 12:00 | Morrison Boomer | 2 Chord Terry | Sleepy Joe |
| 12:30 | The Greg Spence Wolf Ban | Yaacov | D.A.G |
| 1:00 | The Smalltime String Band | Dre | Dave |
| 1:30 | Snake Suspenderz | Gary Olinger | Ayar |
| 2:00 | Mozo | Tristan | Mariied |
| 2:30 | Crow Quill Night Owls | Acep Hale | Carly |
| 3:00 | Baby Gramps | The Dandy Vagabonds | T-bone |
| 3:30 | The OMGs | Lohan | Greg Paul (w/Holly?) |
| 4:00 | Pickled OKra | The Old Family Circus | Evan Evanovich |
| 4:30 | Blvd. Park | Erinn Peet-Lukes | Julie |
| 5:00 | Artis the Spoonman | | |